BeaverBeads™ coated with polymer have rich functional COOH or NH2 groups, which are capable of covalently immobilizing biological ligands, such as peptides, proteins, antibodies and oligonucleotides. These magnetic beads can be used for immunology detection and molecular biology research.
Art.No.:

70104-50

specification:

1μm 10mg/mL

packaging:

50 mL, 10 mg/mL, 1 μm
Introduction

Product Name


Mag COOH

Mag COOH

Mag COOH

Mag COOH

Mean particle size

1 μm single dispersion

2 μm single dispersion

5 μm single dispersion

300 nm

Surface COOH content

~250 μmol/g

~200 μmol/g

~200 μmol/g

~60 μmol/g

Core

Fe3O4
Fe3O4

Fe

3

O

4

Fe

3

O

4
Shell

Polymer




superparamagnetism

Preservative

20% V/V ethanol solution

Preservation temperature

2~8℃ for long-term storage, 2 years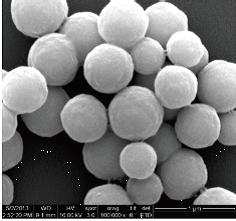 The morphology of BeaverBeadsTM Mag COOH was observed by SEM
FEATURES
-- Rich COOH content: COOH>100 μmol/g.
-- Excellent operation performance: Magnetic beads disperse evenly with super paramagnetism, magnetic response time is<30s.
-- Excellent stability and repeatability: Uniform particle size, polydispersity coefficient<0.2, monodisperse.
Application
Protein purification
Immunoassay
Cell sorting
Specific nucleic acid extraction
Biological sensor
Drug screening and delivery